Few learnings in VC and Angel Investor's interactions
The following picture is from American Tv Drama ( X-files Mulder and Scully – fictional characters ). They are FBI agents in TV drama.
Getting VC/Angle investors is like "X-files mission". You need dedicated agents like Mulder and Scully.
The convincing prospective investor is Mission Impossible (task) . This is like startup's need to  think, why are we at this stage?.
Venture Capital /Angel Investors
Keeping aside the differences between both, both are for arranging to fund as well as well being of the startups
Pitch Desk, Pich Deck, Pitch deck
This is key document are slide pack, which is starter point to connect prospective investor to potential firm
You can have multiple versions depending on the investor and their segment.
1. Elevator pitch
2. One minute pitch
3. 5 /15/30 minutes pitch
Not every pitch deck satisfies all the investors.
Charted accountants want to see numbers, projections, balance sheets.
Technical people are comfortable with technology
VC and HNI want to see ROI
Some people want disruptive innovations
Some people, how do you ensure amount invested?
Is it in single person's  control?
Do we have distributed team?
What if this fails, do have an exit strategy?
Pitch deck contents
Business/ Service/Product/ Platform name
Benefit line

As amazon, we are e-commerce platform

Current Problem
How are we addressing the same?.
Visual demo

To showcase the product to prove the prototype is done

Business proposition

Mention in crisp
What will you offer to whom, why, for what and the benefits of doing?

How does your business work?

Explain the process of executing your business
Some flowcharts or live demo or Video

Proof of traction

Early customers
And roadmap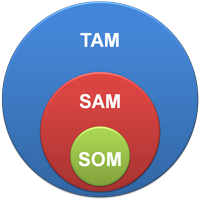 TAM (Total Available market ): Total market for product or service
SAM (Serviceable Available Market) : It is segment of the TAM targetted by your products and services
SOM( Serviceable Obtainable Market): It is the portion of SAM, you can capture
Competition market

How do we differ?
Is there any threat?
How near, How far, which areas they can have our cake?
Product differentiator

Go To Market strategy

How are you taking this market live?
Sales, Marketing
30/60/90/120 days plan

Core strategy

simple plan, which we can explain

Financial Model

Is it Value driven or Volume?
"One-time payment model" or "subscription model"
How big can this grow?

Why are you looking

Why do you need funds?
When do you need funds?
Current investors?
Total invested?
Total pool
Equity
What stage?

Cash flows
Revenue streams
Threats, Death, weakness
Outcome of the business
Founder and team
What happens after pitch deck?
Most of the people have discussion on valuations, how to invest
The process continues 🙂
Several questions
Several pitch decks
What is the typical time frame close on funding?
Hope this helps!